Overweight Energy, Info Tech and Financials
Overweight Asia, EM and Canada
Underweight Consumer Staples, Utilities, Real Estate
Underweight US and Europe
Q2 Review: The Atlas asset allocation strategy performance slightly trailed the MSCI World benchmark for Q2. The primary drivers for this underperformance are due to:
• Overweight International (-3.6%), Underweight US (+3.8%)
• Overweight Emerging Markets (-10.1%) within International
• Overweight Value, Underweight Growth.
Most global benchmark indices are flat or down for the year with the tech heavy NASDAQ Composite markedly in positive territory. Relative valuations still favor increased international exposures at the expense US equities. In fact, a close analysis of S&P 500 performance shows the benchmark's YTD positive showing has been driven by just 10 stocks (See graphic below). As always, we emphasize diversification to mitigate risks in these uncertain times.
Absent these 10 stocks (image below), the S&P500 is down on the year.
Through the 1st half of 2018, S&P500 performance has been entirely driven by only 2% of the index's stocks. Five of the top 6 stocks comprise the darling FAANG index. As expected, these stocks exhibit fair to good Momentum scores. However, all except AAPL and NVDA, score poorly for Value metrics like Price/Book, Price/Earnings and Price/FreeCashFlow.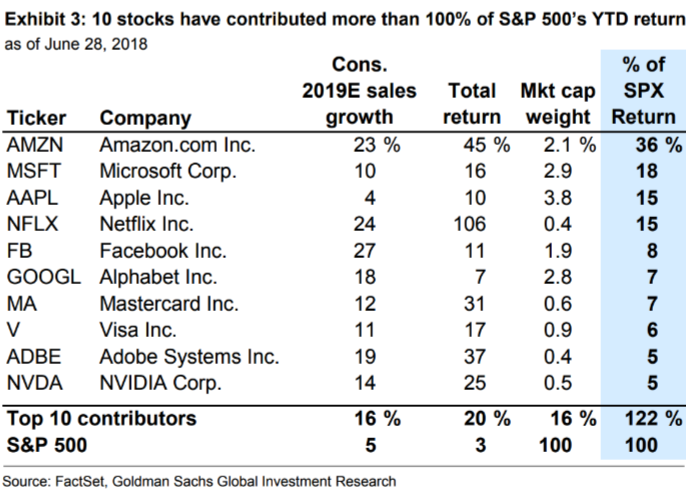 Value v. Growth Review
Considering recent outperformance of 'growth' investment style, we thought it topical to review the merits of a value investment style over the long term. Both empirically and intuitively, value should outperform growth over long period of time but as you can see from the link to a Fidelity article on this subject, the most recent 5 year period has grown outperforming value by more than 2.0% per year. This has been a drag on Atlas relative performance over this period.
Q3 Outlook
Below is our current analysis of market opportunities and how we are positioning portfolios. We would be glad to discuss or answer any questions.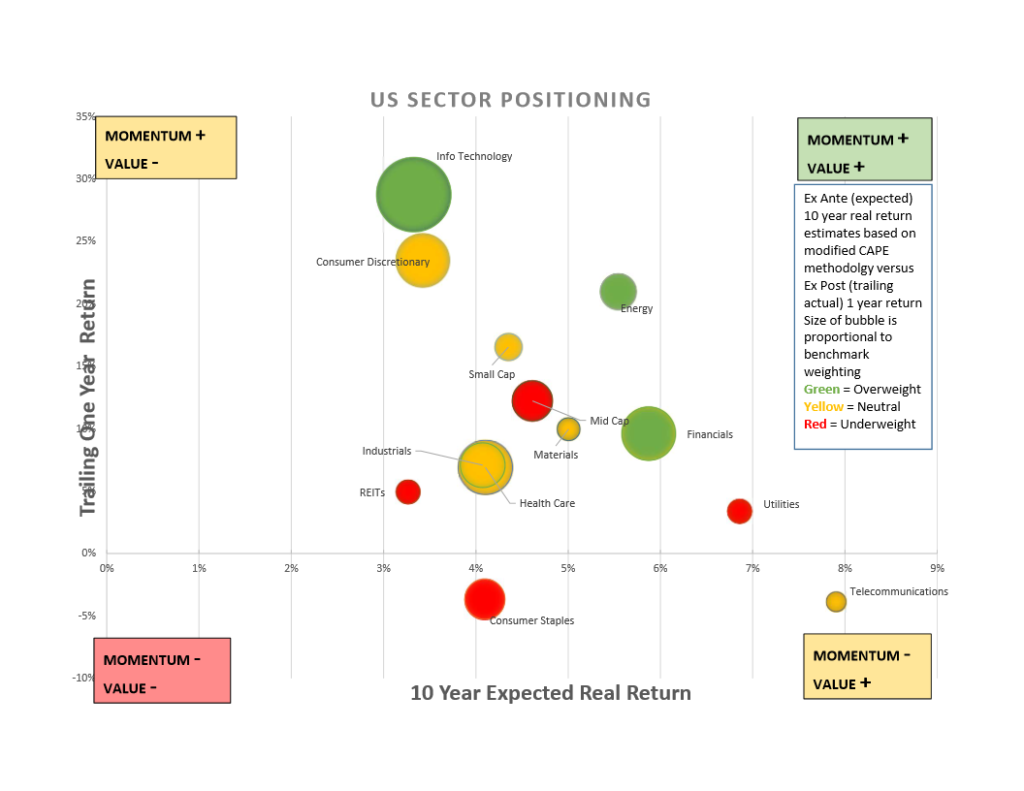 US Sector Return Estimates
The chart below shows our current evaluation of the sector choices available to US equity investors. This evaluation drives our allocation decisions. Markets which appear most attractive for investment are in the upper right. Those sectors that have both good value and positive momentum. Future real returns based on historical value norms are unappealing.
US Sector Positioning
Consumer Staples, Utilities, and Real Estate underweight based on valuation. Overweight Financials and because of reasonable value. Info Tech and Consumer Discretionary overweight based on Momentum. Neutral-weight Small Cap, Underweight Mid Cap.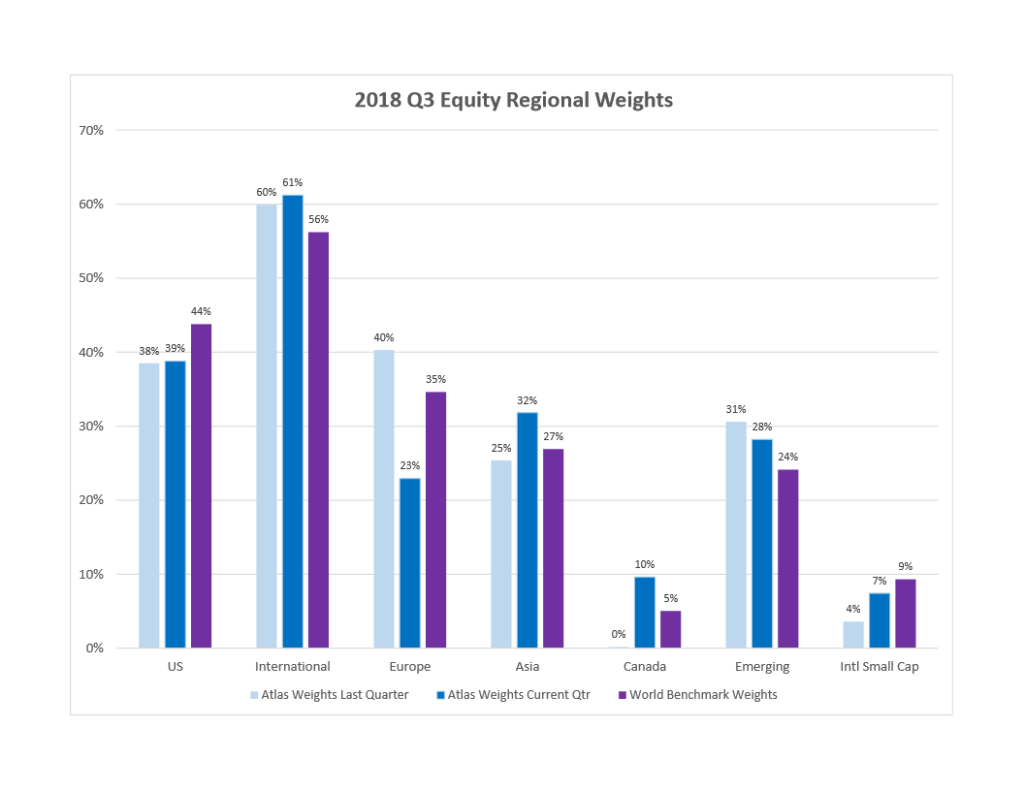 Regional Positioning Chart
Atlas portfolios in relation to the weights of the benchmark global equity index are depicted below. The weighting preferences continued the trend we've implement most of the 30 months; reduced US exposure and increasing International weightings. We're underweight US equities versus both benchmark and International equities. Within International, we are overweight Asia, Canada and Emerging Markets while underweight Europe and Small Cap.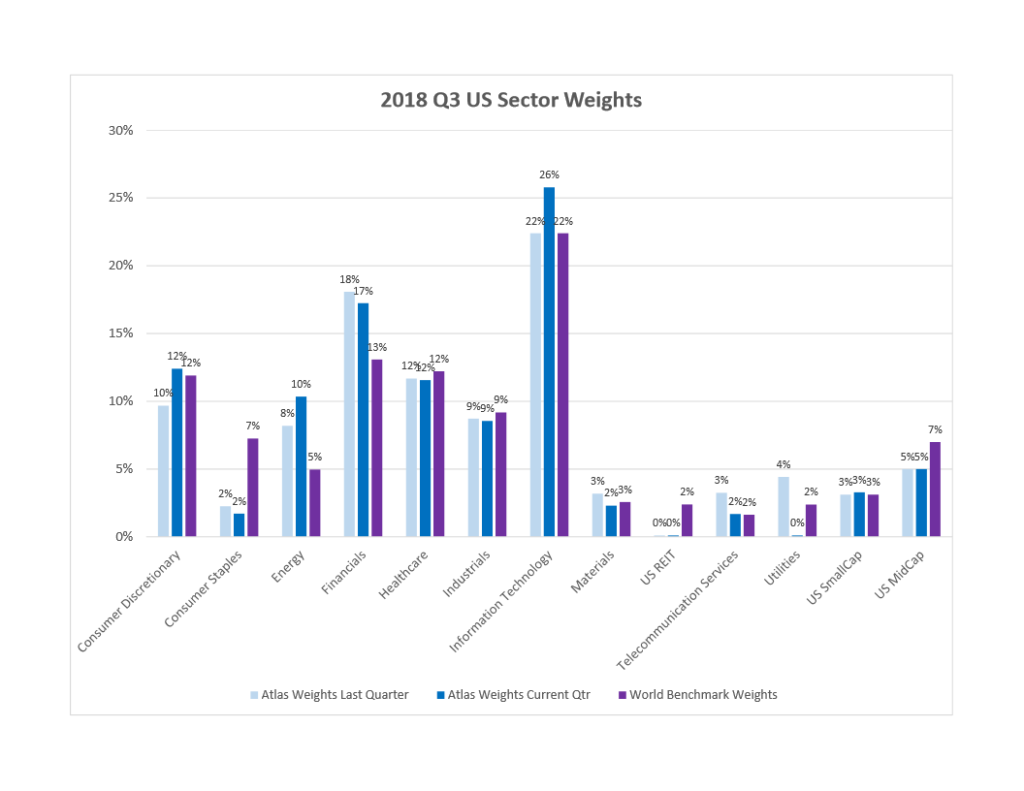 Disclosures
We believe the information provided herein is reliable but should not be assumed to be accurate or complete. The strategies described may not be suitable for all investors and may not be appropriate at all times. Performance is for selected portfolios, while individual investment performance is dependent upon the portfolio(s) of investment. The partners and associates of Atlas Capital Advisors are investors in Atlas portfolios. Past performance is not a guarantee of future performance. Opinions and statements are based on current market conditions as of the date of publication and are subject to change without notice. Nothing in this presentation should be construed as a solicitation to buy or sell securities.
Atlas Capital Advisors LLC is an independently owned SEC registered investment advisor. The firm manages client portfolios across a variety of asset classes including equities, bonds, currencies and derivatives. All client portfolios are separately managed in a variety of investment strategies. Atlas Capital Advisors LLC claims compliance with the Global Investment Performance Standards and a GIPS® compliant presentation is available upon request.