Atlas Capital Advisors
We are an independent, fee-only registered investment advisor dedicated to providing unbiased advice to our clients. Our specialty is the design and management of sophisticated, tax-sensitive portfolios for individuals and institutional investors. We seek to produce desirable returns while minimizing costs through proven investment strategies that include separate equity and fixed income securities.
CONTINUE READING

DOWNLOAD

ATLASFX
®
Atlas Risk Advisory Inc.
AtlasFX is the industry's only all-in-one platform that helps you Access, Analyze, React to and Visualize your global currency risk.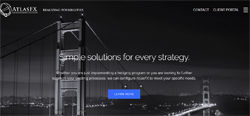 VISIT ATLASFX®

Contact Info
ATLAS CAPITAL ADVISORS, LLC

38 Keyes Ave Suite 200
The Presidio San Francisco
CA 94129

Tel: 415 354 2400

Fax: 972-466-5328

Monday - Friday 8am - 5pm
WRITE TO US