Yesterday, the Federal Reserve raised its benchmark overnight borrowing rate +0.25% to 2.25%. Investors may be distracted by the wave of market commentary analyzing the rate hike significance. Yes, the Fed eliminated the word "accommodative" from its description of monetary policy, but the Central Bank has been reducing liquidity since 2013's end to Quantitative Easing (QE). Any reaction to the news is noise, the rate hike was already priced into valuations. In fact, the Fed Funds futures market currently has priced two more 0.25% rate hikes over the next 12 months.
However, the forward curve has a poor record of accurately predicting the ultimate level of interest rates. In fact, the forward curve tends to overpredict actual path of short term rates 70+% of the time.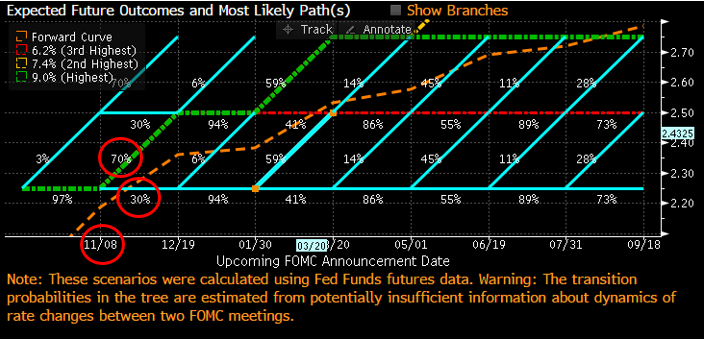 Explanation of above graphic: At each of the upcoming FOMC meeting dates (x axis), the graph indicates the futures expectation of a rate increase at that meeting. (e.g. for the 11/08/18 FOMC meeting, the futures market prices a 70% probability the Fed will raise another 0.25% – to 2.5% and a 30% probability rates stay unchanged.) The orange dashed line is the discounted stream of futures contracts that constitutes the forward curve.
Opinions and statements of financial market trends that are based on current market conditions constitute our judgment and are subject to change without notice. We believe the information provided here is reliable but should not be assumed to be accurate or complete. The views and strategies described may not be suitable for all investors. If you are not the intended recipient of this electronic message, please do not disseminate, copy or take any action in reliance on it. Unless specifically indicated, this communication is not an offer to buy or sell or a solicitation to buy or sell any securities, investment products or other financial product or service.